Liebe Dharmafreunde,
Bitte spenden !!!



Bitte überweisen sie auf das folgende Konto:
Tibetisch-Buddhistische Religionsgemeinschaft
BLZ: 370 700 24 (Deutsche Bank)
Verw.Zweck: 3-J-R-Halscheid

Lama Phuntsok`s Schule


Dec. 15, 2008 Dear Friends in the Dharma and
dear Sponsors & Students of Karma Lekshey Ling Institute,

At this time of year, people throughout the world join hands together to celebrate the holiday season, yet we do not want to forget that not everybody has the same good fortune and freedom to partake in these joyous activities because they live in dire need.

Since 2001, Karma Lekshey Ling Institute has been dedicated to offering young monks between the age of 15 and 20 a higher Buddhist education together with training in practical fields of knowledge, while supplying them with everyday necessities. Since 2007, we felt it our responsibility to also offer young ones between the age of 8 and 15 a home and founded education because more and more impoverished families living in this area of the Himalayas were bringing their children to us. Within a year, we were doing the best we possibly could to give 50 little monks a new home and basic schooling in the light of Lord Buddha's teachings.

But the space and facilities in our monastery are limited, so we feel at a loss. Not having the heart to reject or neglect what we can do to provide the youngsters with a good education which every child deserves, we have decided to build a primary school. We have already received permission from the government of Nepal to carry out our plans and have reserved 2045 sq. meters of our monastic grounds for this purpose. It will cost 200 Euro per sq. meter to build the school that we drastically need. Please click here to view the sketches that have been prepared:
www.leksheyling.net/pages/english/School/Leksheyling School Project 2009/index.htm

We all know that a good education is a most decisive heritage in life – it is a treasure that everyone holds in their hands while aspiring to experience inner peace and thus contribute to peace in the world. Please help us through your kindness and generous support to not fail the little ones. Please help us to build this school to give them a chance to take their first steps in their wish to be appreciated and to lead dignified, meaningful lives.

Thank you for caring, thank you for your generosity by supporting this wonderful project, and on behalf of our Abbot, Venerable Chöje Lama Phunstok, the staff, the students, and our little monks at Karma Lekshey Ling a most joyous season's greetings to you and your loved ones.
Khenpo Karma Namgyal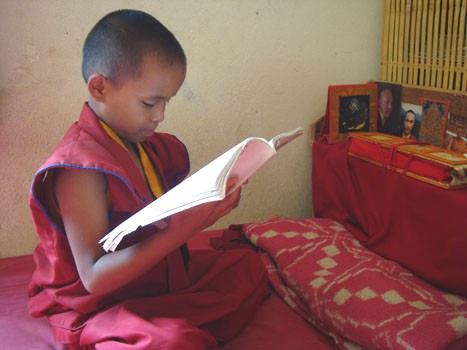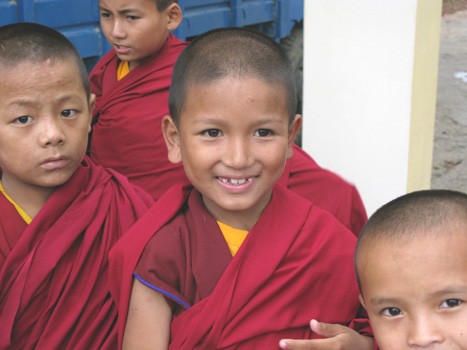 Donations to build the school can be made by way of our friends in Europe:
Kamalashila Institute for Buddhist Studies
Tibetisch-Buddhistische Religions-Gemeinschaft
Deutsche Bank
BLZ: 37070024
Kto.-Nr.: 783466622
Verw.-Zweck: Primary School at KLLI

And by way of our friends in Asia:
Nepal Bank Limited, Karma Lekshey Ling School
000-211-0065855
NEBLNPKA
Dharmapath Kathmandu (Head Office)
P.O. Box 36, Kathmandu, Nepal

Or

Hang Seng Bank Ltd.
Mr. Finjo Gurung
369-4-700133
HASEHKHH
UID: 10522
Hankow Road Branch 4 Hankow Road Kowloon
Hong Kong


Liebe Dharma-Freunde,
viele Tashi Deleks!
We are so happy that it has been possible through your generous donations to give the monks who have the sincere wish to take the full monk vows the Three Dharma Robes. The young monks are all well-prepared and are very happy to become ordained by H.E. the 12 th Tai Situ Rinpoche, who they will need to look up after the Kagyü Mönlam in Bodhgaya this year.
Infos hier


Request for Leksheyling Publications
With the help of a few monks, I started working on the Karma Lekshey Ling publications in 2004. My aim was and is to publish the texts of all subjects that are taught in our Institute's curriculum. I am almost finished and only a few texts are left to do, but they will be very thick books, consisting of more than 1000 pages. After having completed this project, I hope to work on the Karma Kagyu Lineage texts that haven't been published for many years. I plan to make them available as free downloads through www.dharmadownload.net. My wish is that these precious texts will help and benefit the many students and scholars worldwide who are really interested in them.
Bodhicharya Deutschland e.V.

Errichtung eines Buddhistischen Zentrums für Frieden und Verständigung
Spendenkonten:
Deutsche Bank Berlin BLZ: 100 700 24
Konto-Nr.: 03302 3302 Bauvorhaben Kinzigstraße
Konto-Nr.: 03302 3300 Soziales & Hospitzarbeit
Konto-Nr.: 03302 3303 Dharma – Theksum Tashi Chöling
Bitte überweisen sie auf das folgende Konto:
Tibetisch-Buddhistische Religionsgemeinschaft
BLZ: 370 700 24 (Deutsche Bank)
Verw.Zweck: 3-J-R-Halscheid